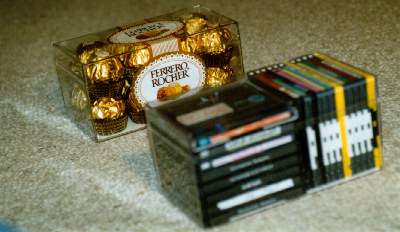 Cheap MD storage solution
As a List Member from Italy suggested a couple of months ago, empty "Ferrero Rocher" boxes are the perfect cheap storage solution for MDs. A box filled with these quite tasty chocolates costs only DM6 (~US$3,50) and holds ~27 MDs without the cover. Or you can put up to 8 MDs including covers in there and still have space for 11 MDs without. This is nice when you want to take empty MDs with you. The boxes themselves are a bit fragile, but apart from that perfect for the job. I've carried MDs around in these for a couple of months and so far all are still intact. So why not buy some for your girl/boy friend and keep the box...
There's only one drawback. They are currently not available in Germany, [we got cardboard boxes here... :( ]. You can buy Ferrero Rocher all over Europe and on Duty-Free Ferries.
---
All trademarks belong to their owners.
March 7th '97

Contact: