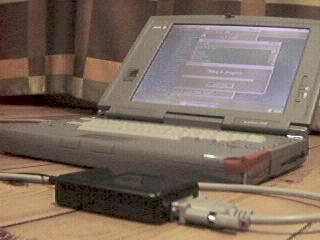 MD titling with your PC.
If you own a Sony recorder with Control A1, you can buy a kit from Sony that allows you to connect it to a PC. Older and some of the cheaper models don't allow this, so if you own one of these and are fed up with titling your MD with the remote control, maybe this is something for you. On http://www.czechin.com/minidisc/ you can find informations about a small, low cost device that connects to your PC's COM port and allows a Windows 95 machine to send the same IR codes as a remote control.
On the web site you can download a demo version of the software, so that you can see for yourself if it matches your needs.
In my opinion, this is a great alternative to keyboard-style remote controls.
---
All trademarks belong to their owners.
Jan. 4th 98 / May 5th 99

Contact: